How Notion Becomes More Than Just a Tool
Learn how to build simple Notion systems that save you from wasting 260 hours a year.
All while working towards your personal and professional goals.
125+ students helped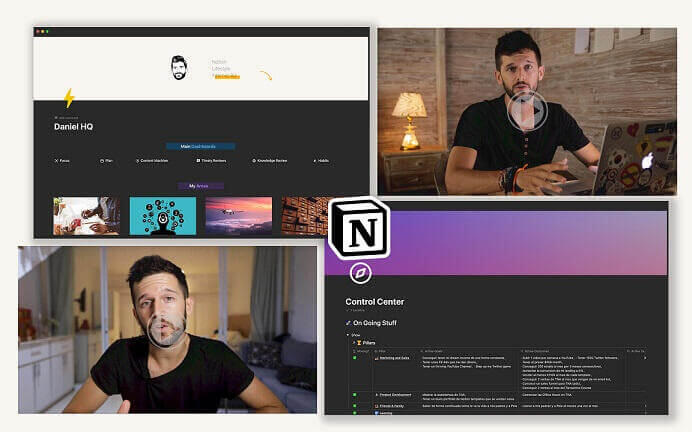 "This course is not only teaching me how to use Notion, it's making me rethink my whole life and how I can live it better and more productively"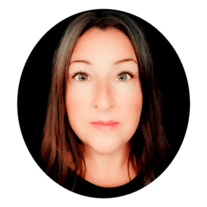 Nancy Cauwels
Web Designer, Creative Director & CEO at Mark
Gent, Belgium
Get the Most out of Notion.
Get More Done.
The Notion Academy Teaches You to Build Systems That: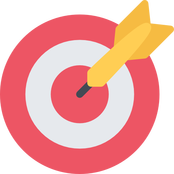 Connect daily tasks to high-level goals so your everyday actions can make an impact.
Capture and organize information leading to creative breakthroughs in work and life.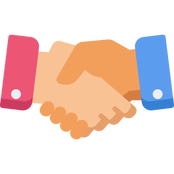 Streamline business workflows so you can focus on income-earning tasks.
Because here's the thing...
Without the Right Systems Notion Isn't Productive
Using Notion shouldn't mean
Wasting hours watching impractical Youtube tutorials

Downloading complex templates that quickly overwhelm you

Setting up incomplete systems that aren't adapted to your goals

Building irrelevant and complicated databases you never end up using

Giving up because you don't have the time to learn how to master Notion
There's a better way to learn Notion, but...
learning the basics of Notion is only the beginning
---
A 1,000 person survey of knowledgeable Notion users revealed only 26% of them felt organized.The problem isn't learning how to use Notion.It's whether you can create the right systems for your life within it.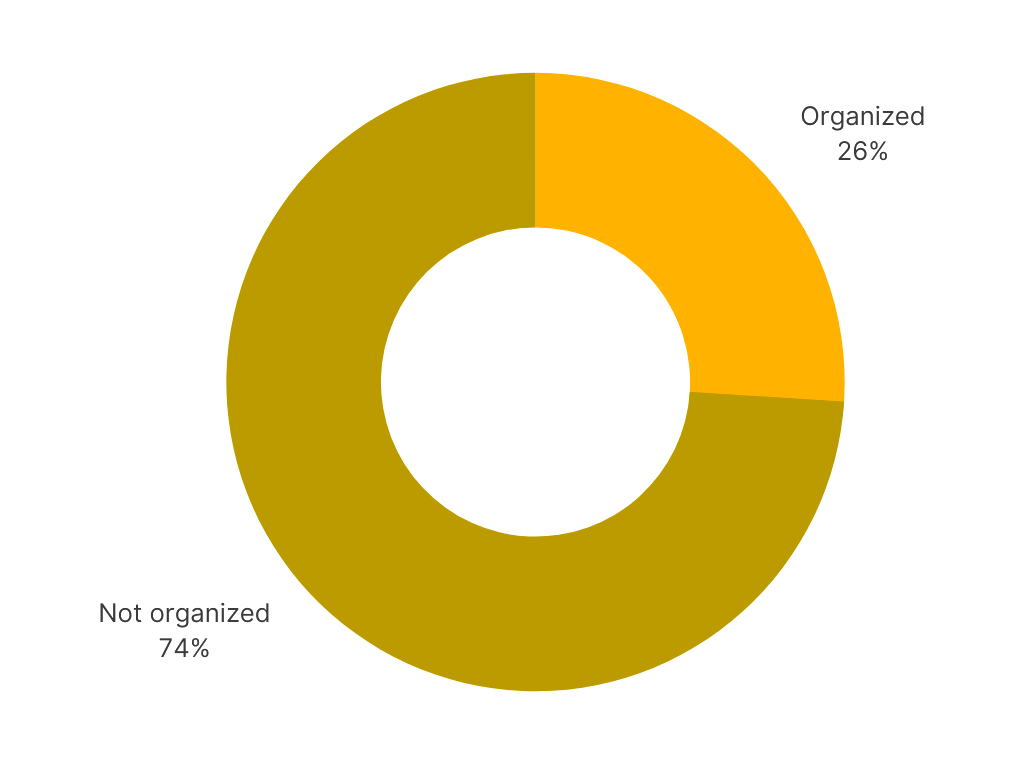 Implementing personalized Notion systems is how you stay on top of everything
This is why I created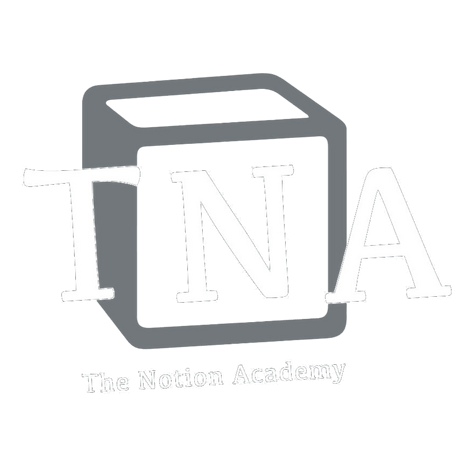 A self-paced online program that teaches you step-by-step how to create customized productivity systems.Designed for both new and existing Notion users.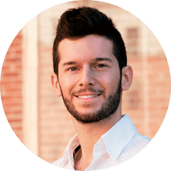 Hey, I'm Dani, and I created The Notion Academy for business professionals and creators who lose their time, money, and potential by using the wrong productivity systems.I created this course after a few years of running my business on fumes. No matter how hard I worked, things kept falling through the cracks and I was always overwhelmed.To fix this mess I thought I had to overhaul my entire productivity system and build out intricate workflows.To be clear: this is totally crazy.
Productivity should not be complicated
So, I set off on a mission to find a productivity solution that would be easy and effective.I found the answer with Notion.Notion is the most customizable and capable productivity app on the market. But as a previous product manager, I could see that alone, Notion was just a tool. A vehicle.What was necessary was to implement systems that could provide a framework for organizing our lives. It's systems that allow us to:
Make progress rather than plan it.

Nudge us towards a desired outcome.

Stop information from slipping through the cracks.

Categorize relevant information so we can move from chaos to clarity.
That's why I created The Notion Academy, a program where I teach others how to use Notion by creating time-saving systems that bring them closer to their personal and professional goals.I'm now a certified Notion ambassador and Certified Notion Consultant, and in my program, I include personal assignments, offer personalized feedback, and run a vibrant Notion-obsessed community.More than dozens of students have referenced The Notion Academy for an all-encompassing productivity solution saving in total over 13,000 hours of time (and counting)And now, I'm here to help you out.
The Notion Academy is For...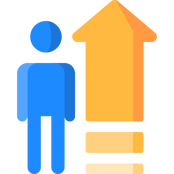 Productivity and self-improvement enthusiasts thinking of charting their progress and habits to hit new goals.
Business professionals who want to streamline their business workflows so they can focus on high-leverage tasks.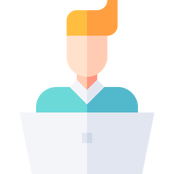 Content creators who are looking to capture and organize material to come up with new creative projects.
Here's what you get when you sign up for
The Notion Academy
I'll teach you the basics of Notion and then help you identify your goals, so we can then build systems that'll show you exactly how you're going to get there.

45 bite-sized, no-fluff video lessons that teach you how to get the most out of Notion.

All The Notion Academy templates for a simple task management database, information capture system, and business workflows, normally valued at $60+.

3 private assignments where I provide personalized feedback to help you reinforce what you're learning.

Entry to the Slack community with direct access to me and other TNA students where I'll be providing daily support 9 AM - 5 PM GMT.

Lifetime access to The Notion Academy material and new material that gets added in the future.

Office hours twice per month to hold you accountable and help customize your productivity system.
My entire business relies on the systems I teach in The Notion Academy. I've used these exact systems to achieve my goals of becoming a digital nomad, scale my business, and hit a full time income as a content creator in less than 4 months.
"You've helped me live a calmer and a more productive life"
Yina Huang.
Startup founder, blogger and TNA student
"Absolutely loving the course. Hard goals I have put off for years are now getting the structure they've always craved. I can start thinking about the big picture stuff again without losing daily execution. Having a clear map for the specifics of my dreams is key to my confidence and certainty. A mental load off big time!!!"
"Thanks a ton for putting together the best Notion tutorial course out there! Never seen anything come even close to this one!"
Curriculum
Here's what you'll learn
Modules
One, Two, and Three
Learning the Basics
These three simple modules are where you'll learn the Notion building blocks: the interface, pages, and databases.It's built for Notion newbies looking to get started and existing users who want to learn some new tricks.By the end of these modules, you'll understand Notion's potential as a personal productivity system.
---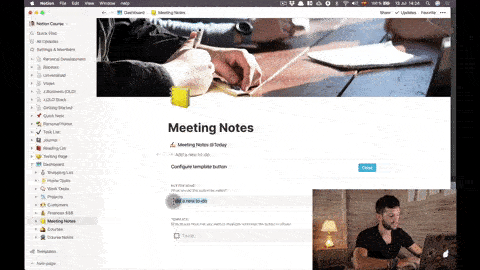 Module Four
Your Goal/task Management System
You can't get to where you want to be if you don't know what it is.In this module, we dig deep into your desires to be able to then create a system that'll help you work towards your goals.These systems have integrated feedback loops, meaning you'll be reminded on a weekly basis of your goals.By emphasizing consistency, you'll soon see the compounding effects of your efforts.
---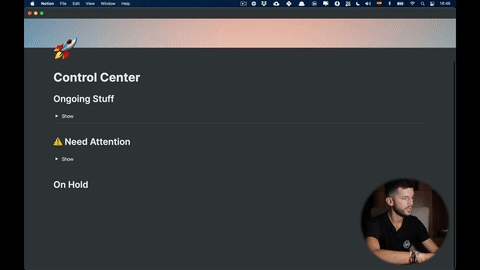 Module Five
IPO Knowledge Management System
Your brain is meant to have ideas, not to hold them. That's where the Notion IPO system comes in.This system captures all the information you consume online (input), helps you internalize it (process), and turns the material into new creations (output).People will think you're some kind of genius. But in reality, you just know how to manage the information that comes your way.
---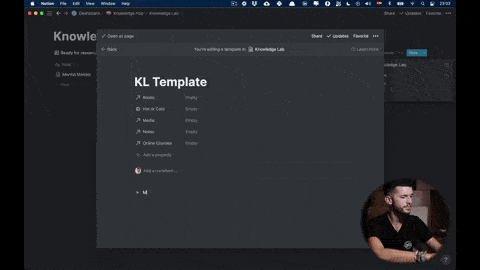 Module Six
Business Workflows
We're going to streamline your business initiatives, databases, and operations so you can focus on high-leverage tasks.We'll put all the pieces of your business together, including:- Client Relationship Management (CRM)
- Product and Sales Management
- Finances Manager
- SOPs
- and much more.Thanks to this system, you'll spend less time on work, but get twice as much done 💃🏼
---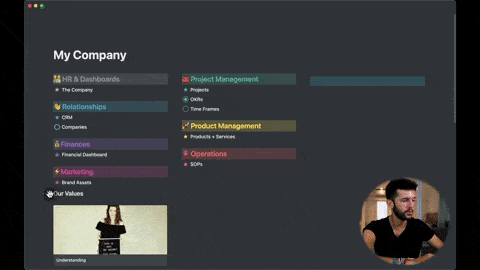 Module SEVEN
Personal Workflows
Because not everything is work, in this module we are going to make your personal life work as smoothly as your professional.We're going to do so by building:- Your Home Dashboard
- A meal planner and automatic grocery list
- A sports hub
- A trip planner and world domination page
- and much more.
---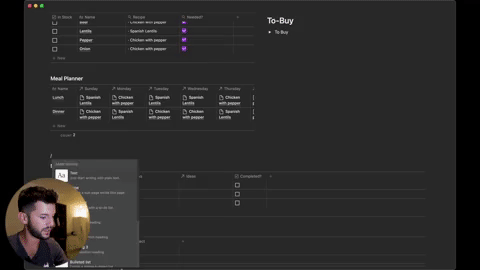 Here's a sneak peek into the program
"My mind has been blown by Daniel and how he's applied this approach to the systems he's built in Notion"
Dylan Lau
"You were the first person who were able to build what I needed"
Dan Greenwald.
Founder of ThirtyTenZero and client of TNA
Basic
$297
Program + Feedback + Community
7-Module

curriculum

TNA Community Access

to ask questions in real time and get inspired from other students

Personalised Feedback from Daniel

for ALL assignments

Access to free and exclusive TNA Notion templates

$150 total value

Lifetime Access

to The Notion Academy lessons and all future updates

1x 75-minute Consultation Call

with Daniel

$300 value

Priority Support

and Accountability Check-Ins
Premium
$497
Everything in Basic Plus Personal Coaching
7-Module

curriculum

TNA Community Access

to ask questions in real time and get inspired from other students

Personalised Feedback from Daniel

for ALL assignments

Access to free and exclusive TNA Notion templates

$150 total value

Lifetime Access

to The Notion Academy lessons and all future updates

1x 75-minute Consultation Call

with Daniel

$300 value

Priority Support

and Accountability Check-Ins
You've Got Nothing to Lose.100% Money-Back Guarantee.
It's important to me your investment is risk-free.
I'm confident TNA will redefine your productivity workflow, but if within 30-days of purchasing the course you aren't satisfied you'll receive a full refund.
I would highly appreciate your feedback if that's the case though.










Got more questions?
---
Can't I already find this stuff for free online?
You definitely can. But the internet is a very big (and messy) place. You're paying for the curation, community, personalization, and personal support this program offers. TNA is about creating your personal productivity systems for your entire life. Watching a few Notion Youtube videos won't get you there!
I'm not a very technical person. Will I still get value out of this?
I have a coding background, and let me tell you: I haven't written a lick of code in the past 10-years. Nada. Zilch. None. Notion is part of the "no-code" movement, and is meant for people like you who've always wanted to build things online but didn't know how. Now anyone can build powerful systems.
What if Notion goes bankrupt and all my productivity systems and information vanish into thin air?
I hear ya. It's kind of crazy to think of putting your digital life into a single app. Luckily for us, Notion is doing great. It recently hit a $2 billion valuation and raised over $50 million from Index Ventures. If that still doesn't convince you, you can easily download your information at any time and store it somewhere safe. Either way, you're covered.
There are a bunch of Notion courses out there. Why spend hundreds of dollars on yours?
It's true - it's not a small amount of money! But the TNA is not a transaction; it's an investment. To guarantee your investment has the highest ROI possible, I considered these factors when designing the program.
TNA is not about learning the basics of Notion, but building systems tailored to your life to boost your productivity, and in extension, your profits.

All videos are scripted, pre-recorded, edited, concise, and high-quality saving you time and confusion.

The way to learn is by doing. By assigning projects with personalized feedback, you'll become a Notion expert.
The Notion Academy is more than an online program. With a community, weekly office hours, and regular check-ins, you're joining part of something larger than yourself that you'll have for life.
How long will it take for me to get through the course? I don't have all the time in the world.
This is a self-paced program. Some people will consume all the content within a few days. Others prefer to space it out over a few months.

Regardless, you'll have my support for as long as you need. In total, there's about 5-hours of video content. Paired with the personalized feedback, I'd say it would take approximately ~15 hours to completely digest everything you've learned. Boom.

Remember that when learning new things, there will always be a learning curve. At first, you'll start off a little slow, but then it'll smooth out.

Within just a few hours, you'll be well on your way to making Notion your digital home. Promise.
Hello fellow biz owner!
Here I am saving into my system you're interested in business topics so I can send you the good business stuff.See how diligent I am?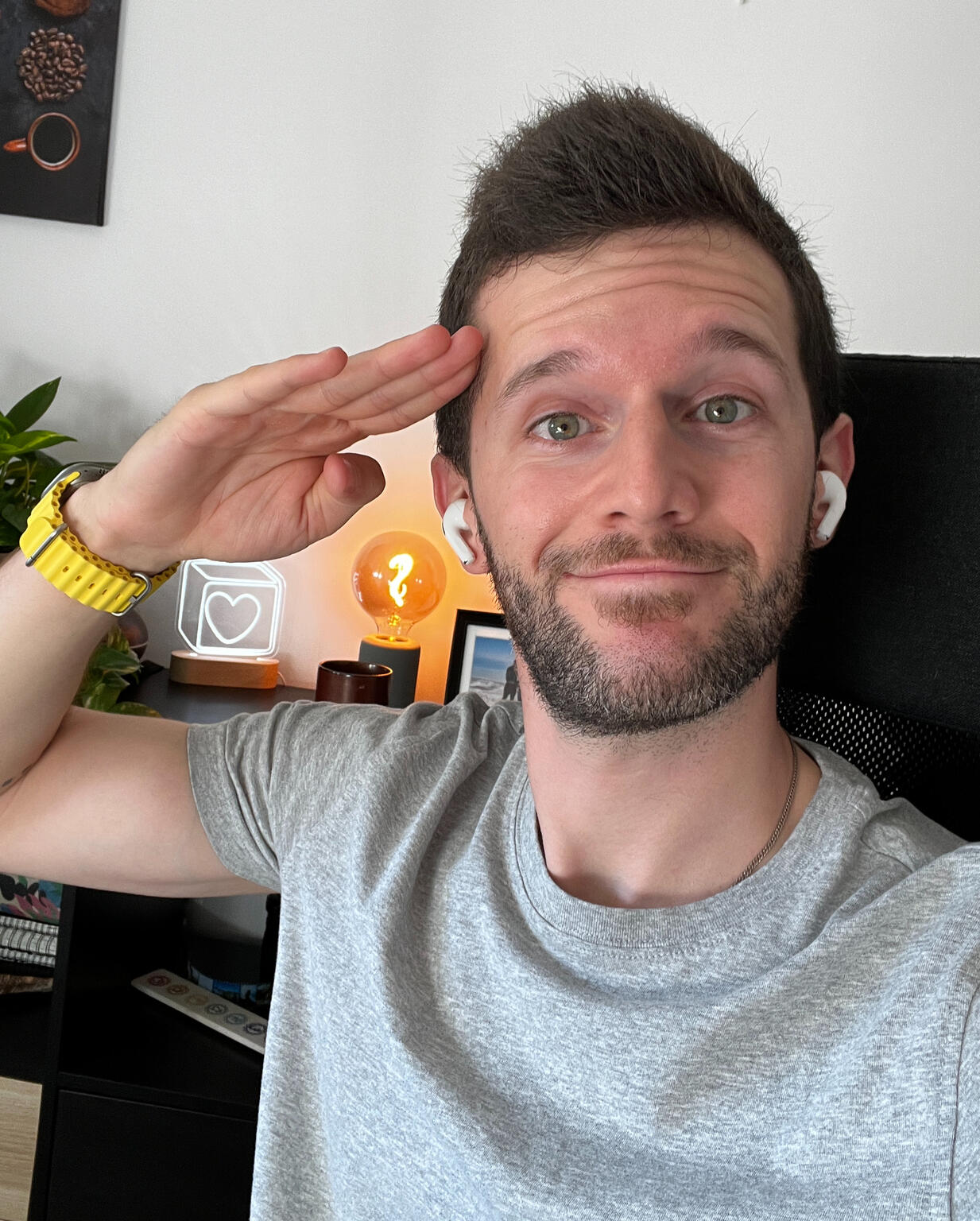 btw, you should've received another email with some business goodies ;)
# Privacy Policy for thenotionacademy.comAt The Notion Academy, accessible from thenotionacademy.com, one of our main priorities is the privacy of our visitors. This Privacy Policy document contains types of information that is collected and recorded by The Notion Academy and how we use it.If you have additional questions or require more information about our Privacy Policy, do not hesitate to contact us.This Privacy Policy applies only to our online activities and is valid for visitors to our website with regards to the information that they shared and/or collect in The Notion Academy. This policy is not applicable to any information collected offline or via channels other than this website.## ConsentBy using our website, you hereby consent to our Privacy Policy and agree to its terms.## Information we collectThe personal information that you are asked to provide, and the reasons why you are asked to provide it, will be made clear to you at the point we ask you to provide your personal information.If you contact us directly, we may receive additional information about you such as your name, email address, phone number, the contents of the message and/or attachments you may send us, and any other information you may choose to provide.When you register for an Account, we may ask for your contact information, including items such as name, company name, address, email address, and telephone number.## How we use your informationWe use the information we collect in various ways, including to: Provide, operate, and maintain our website
Improve, personalize, and expand our website
Understand and analyze how you use our website
Develop new products, services, features, and functionality
Communicate with you, either directly or through one of our partners, including for customer service, to provide you with updates and other information relating to the website, and for marketing and promotional purposes
Send you emails
* Find and prevent fraud## Log FilesThe Notion Academy follows a standard procedure of using log files. These files log visitors when they visit websites. All hosting companies do this and a part of hosting services' analytics. The information collected by log files include internet protocol (IP) addresses, browser type, Internet Service Provider (ISP), date and time stamp, referring/exit pages, and possibly the number of clicks. These are not linked to any information that is personally identifiable. The purpose of the information is for analyzing trends, administering the site, tracking users' movement on the website, and gathering demographic information.## Advertising Partners Privacy PoliciesYou may consult this list to find the Privacy Policy for each of the advertising partners of The Notion Academy.Third-party ad servers or ad networks uses technologies like cookies, JavaScript, or Web Beacons that are used in their respective advertisements and links that appear on The Notion Academy, which are sent directly to users' browser. They automatically receive your IP address when this occurs. These technologies are used to measure the effectiveness of their advertising campaigns and/or to personalize the advertising content that you see on websites that you visit.Note that The Notion Academy has no access to or control over these cookies that are used by third-party advertisers.## Third Party Privacy PoliciesThe Notion Academy's Privacy Policy does not apply to other advertisers or websites. Thus, we are advising you to consult the respective Privacy Policies of these third-party ad servers for more detailed information. It may include their practices and instructions about how to opt-out of certain options.You can choose to disable cookies through your individual browser options. To know more detailed information about cookie management with specific web browsers, it can be found at the browsers' respective websites.## CCPA Privacy Rights (Do Not Sell My Personal Information)Under the CCPA, among other rights, California consumers have the right to:Request that a business that collects a consumer's personal data disclose the categories and specific pieces of personal data that a business has collected about consumers.Request that a business delete any personal data about the consumer that a business has collected.Request that a business that sells a consumer's personal data, not sell the consumer's personal data.If you make a request, we have one month to respond to you. If you would like to exercise any of these rights, please contact us.## GDPR Data Protection RightsWe would like to make sure you are fully aware of all of your data protection rights. Every user is entitled to the following:The right to access – You have the right to request copies of your personal data. We may charge you a small fee for this service.The right to rectification – You have the right to request that we correct any information you believe is inaccurate. You also have the right to request that we complete the information you believe is incomplete.The right to erasure – You have the right to request that we erase your personal data, under certain conditions.The right to restrict processing – You have the right to request that we restrict the processing of your personal data, under certain conditions.The right to object to processing – You have the right to object to our processing of your personal data, under certain conditions.The right to data portability – You have the right to request that we transfer the data that we have collected to another organization, or directly to you, under certain conditions.If you make a request, we have one month to respond to you. If you would like to exercise any of these rights, please contact us.## Children's InformationAnother part of our priority is adding protection for children while using the internet. We encourage parents and guardians to observe, participate in, and/or monitor and guide their online activity.The Notion Academy does not knowingly collect any Personal Identifiable Information from children under the age of 13\. If you think that your child provided this kind of information on our website, we strongly encourage you to contact us immediately and we will do our best efforts to promptly remove such information from our records.